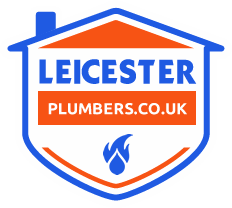 Need A Reliable Plumber in Leicester?
Your local, commercial & residential plumbing company.
We solve
90%

of plumbing emergencies in

less than 1 hr!

* There is no call out fee and our prices start at just £60 an hour!
24/7 Emergency Plumbers Who Care!
Looking for a plumber in Leicester who offers free quotes with no obligations then look no further than Leicester Plumbers.
Leicester Plumbers was started by myself, Simon Grosvenor (the one in the picture below with the the cap and the finger).
We have been a local plumbing company to many homeowners, landlords, estate agents and small businesses for over 15 years now and we fully understand the difficulty people have with trusting a tradesman in their home or their business.
We are genuinely a family plumbing business and our small team has worked steadily over the years to have now achieved over 200 Google Gold Stars within the Leicester plumbing industry.
We can put your mind at rest, as we are very happy to provide references from past and current customers.
If you have not already please take some time to read our EXCELLENT reviews on our google maps listing.
Not An Emergency?

(Tell us about the job you require for your FREE QUOTE)
Local Plumbers In Leicester
Please be reassured that we are happy to provide free quotes on all jobs no matter how big or small they are!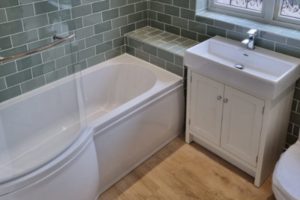 CALL NOW and let us know if it is a plumbing emergency, boiler servicing, heating or bathroom installation or repair and we will get back to you with a free quote.
Alternatively, if you just prefer us to just call you back at a time that is convenient for you, then let Leicester Plumbers know your phone number and we will then call you back at that time!
Or we can arrange to come and visit your property to then give you a more accurate quote.
Call Today On
0116 403 0184
"I highly recommend Leicester Plumbers. Very pleased with my bathroom refurbishment. Simon and his team have done a fantastic job, professional from start to finish."
"Very fast, efficient and professional service. Solved a few problems in quick time whilst explaining what caused the issue. Very impressive and would definitely recommend."
Does your
bathroom

need refurbishing or your 

boiler

need replacing?

* Tell us about the job you require and we promise to get back to you within 24hrs!

* YOU CAN EVEN SEND US PHOTOS if this helps us understand your requirements!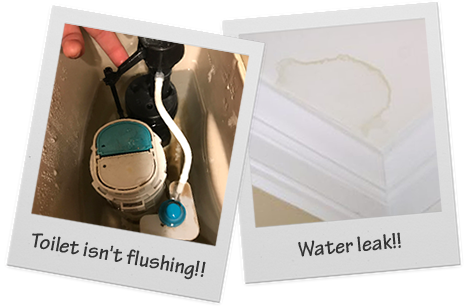 Residential plumbing or domestic plumbing covers a vast array of residential services focusing on family homes. Issues like clogged kitchen sinks, installing toilet fixtures, and repairing broken pipes to boiler repair and bathroom installations.
We also work with local Landlords to help with repairs and emergencies at their rental properties.
Leicester Plumbers are able to tackle any task and carry out plumbing work at a wide variety of industrial and commercial sites including beauty salons, nurseries, restaurants, shops, residential care homes, local authorities, schools, warehouses and factories etc.
We understand the unique challenges involved in keeping your business running whilst plumbing work is being done. We'll work with you to keep things running smoothly.
How Can Leicester Plumbers Help You?
We try to provide to all our clients a variety of services that they may need. Please find below a list of all that we offer
Let Us Call
You Back!
* Choose a time that is convenient for you and we will call you back!
Recommended Plumbers In Leicester
Don't take our word for it. Read what our customers are saying about Leicester Plumbers.
Michael Phillips
"Friendly and professional. I required an emergency call out on a Saturday for a punctured water pipe. It was easy and quick to get an honest quote and the repair was finished to a good standard. Would highly recommend!"
Sarah Kline
"Called him to look at the bathroom and kitchen taps. He quoted verbally and came over and fixed all issues within 90 mins! Gave us some sound advice on the way the suite has been fitted as well! 100% recommend!"
Pete Smith
"I highly recommend Leicester Plumbers. Very pleased with my bathroom refurbishment. Simon and his team have done a fantastic job, professional from start to finish."
We

love

the small jobs other
plumbers hate!
* No job is too big or too small for Leicester Plumbers!
Frequently Asked Questions
Do you charge a standard rate for your services?
Yes, we offer a standard rate between the hours of 8am and 6pm for all of our plumbing and heating services.
Do you do small jobs like leaking taps?
Yes, we do projects large and small – from leaking taps, to bathroom refits to gutting and drains. Whatever plumbing and heating issues you have, we will solve them.
Are your plumbing quotes free?
Yes always free, unless you live over 30mins away – then we would ask for a fuel contribution.
Do you give quotes over the phone?
To an extent yes – we have solved problems over the phone before! Or we have used a video call to help a customer stem a leak before we arrive! You can even send us a picture via our quote form and we can take a look.
Are you licensed?
Yes, every one of our team is a licensed plumber or heating engineer and we are qualified to carry out all plumbing and heat working on your property.
Are you insured?
Yes we have £5 million liabilty insurance, which enables us to work in houses, pubs, hotels and most businesses.
Do you provide quotes before you start the work so I know the cost?
Yes we do. Ahead of any work we undertake we conduct a comprehensive quote to provide you with a price for the job. We're focused on complete transparency and ensuring you are kept in the loop at all times.
Do you work on investment properties as well as residential properties?
Yes, if you have an investment property in Leicester that needs annual maintenance, safety checks or repairs we can arrange these for you and work with your property manager on your behalf.
Do you carry out gas safety inspections?
Yes at Leicester Plumbers we use gas engineers  who can carry these out for your boiler and can arrange to return on an annual basis to ensure your mandatory landlords inspections are conducted as per the LGSI mandatory requirements. We issues Landlord Gas Safety Records for property owners and can conduct ongoing maintenance and repairs as required.
Can I see your qualifications?
Yes you can. The gas engineers we use are fully Gas Safe registered – just ask for their card on arrival.
We fix
all

your plumbing needs!
We have undertaken a vast array of projects from complete bathroom refurbishments to toilet refurbishments to boiler installations for both domestic and commercial clients.
We strive to give all our customers 100% satisfaction
* That is our ultimate aim as a company and the goal we set for all our clients!